Welcome to the Love: The Good, the Bad, and the Ugly Wiki
This wiki explores representations of love in poems, plays, and short stories from the Classical Period to the contemporary age.
Literary Representations of Love
Love is, by far, the most popular subject in literature. This wiki will explore love in all its varied forms as it is portrayed in poetry, drama, and short fiction from the Classical period to the contemporary age. It will focus on three different aspects of love: 1) the good side of love—romance, passion, friendship, kinship; 2) the bad side of love—unrequited love, forbidden love, broken hearts, separation and loss; 3) the ugly side of love—madness, revenge, obsession.
Featured Article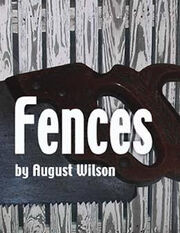 Fences by [Wilson] is a stage play that takes place in the 1950's in a working-class neighborhood in what is believed to be Pittsburgh, Pennsylvania according to The Gale Group. August Wilson was born in Pittsburgh, Pennsylvania in April of 1945 and was a very successful author and play-write. His production of Fences was first brought to the stage in 1983 with James Earl Jones cast as the leading role and later earned four Antionette ("Tony") Perry awards(The Gale Group, 10). The story centers around a father and head of household named Troy Maxson. Troy is a former baseball player, prisoner, and current garbage truck driver who struggles with providing for his family, overcoming his past mistakes and missed opportunities, alcoholism, remaining faithful to his wife, and fulfilling his duties as a father. Troy Maxson, the main character in the play, often seems to blame himself and feel sorry for himself for things that have happened in his life throughout the play, often resulting with his family members picking up the pieces. This play represents the bad love because it shows how much pain a single person can inflict upon himself and his family and the family still loves that person because they are family.